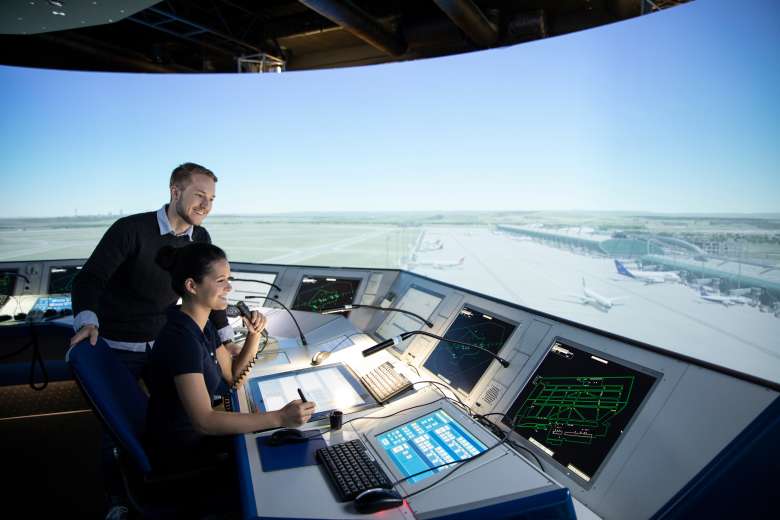 © DFS Deutsche Flugsicherung GmbH
On Saturday, 14 May 2022, the Recruiting Day of DFS, the German air navigation service provider, will take place from 8:30 to 16:00 hrs. On the DFS Campus in Langen near Darmstadt, young people can find out about training opportunities in and around the world of air traffic control. 
The aviation industry is recovering step by step. DFS as an air navigation service provider is an essential part of the wider aviation industry. Among other things, it provides air traffic control in Germany, one of the busiest airspaces in the world. It is always on the lookout for young people to fill a wide variety of positions. Around 150 young people are recruited every year. Candidates can learn more about what DFS can offer them by attending the DFS Recruiting Day, which is celebrating its comeback after a three-year break.  
The approximately 2,000 air traffic controllers at DFS direct and monitor air traffic from four control centres dotted around Germany and from the control towers at 15 airports around Germany. DFS also needs computer scientists, engineers and technicians to ensure that its technical infrastructure is maintained and functions smoothly. Without them, monitoring airspace would be impossible. DFS is looking for trainees and dual students in all these disciplines. 
What is a typical working day like for an air traffic controller? What skills do applicants need to demonstrate in the aptitude test? How long does it take to become an air traffic controller? Experts from DFS will answer these and other questions at the Recruiting Day. Student air traffic controllers and instructors will report first-hand on their experiences. Information on the three dual courses of study offered by DFS in the fields of IT, engineering and air traffic management round off the presentation of job profiles for career entry positions. 
In addition, there will be tips on writing applications and various tours of the training simulators at the air navigation services campus. It is also possible to have a look at the Langen control centre and thus into the real working day of the air traffic controllers. Visitors can listen to talks and lectures on two stages. Weather permitting, a hot air balloon will be on the campus grounds.  
Attendance at the Recruiting Day is free of charge, but registration is required. The core target group is secondary school-leavers, aged between 16 and 24. The number of places is limited. In order to be able to offer them to as many young people as possible, only one accompanying person can come. 
All information on training opportunities and dual courses of study and how to register for the Recruiting Day can be found in German on the DFS careers site at  karriere.dfs.de   


Download
Downloads

Media contact:  
Kristina Kelek
Telephone: +49 (0)6103 707-4161
E-mail: presse@dfs.de  
DFS Deutsche Flugsicherung GmbH, the German air navigation service provider, is a State-owned company under private law with 5,600 employees as at 31 December 2021. DFS ensures the safe and punctual flow of air traffic over Germany. Around 2,200 air traffic controllers guide more than three million flights through German airspace in peak years, up to 10,000 every day. The company operates control centres in Bremen, Karlsruhe, Langen and Munich as well as control towers at the 15 designated international airports in Germany. The subsidiary DFS Aviation Services GmbH markets and sells products and services related to air navigation services, and provides air traffic control at nine regional airports in Germany and at London Gatwick Airport and Edinburgh Airport in the UK. DFS is working on the integration of drones into air traffic and has set up a joint venture, Droniq GmbH, with Deutsche Telekom. Other subsidiaries include R. Eisenschmidt GmbH, which markets publications and products for general aviation, and Kaufbeuren ATM Training GmbH (KAT), which provides training for military air traffic services personnel. The joint venture FCS Flight Calibration Services GmbH offers flight inspection services.