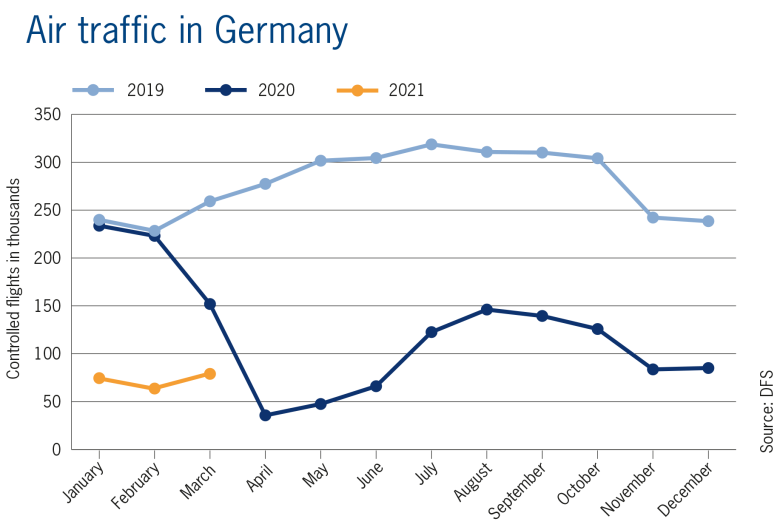 © DFS Deutsche Flugsicherung GmbH
Traffic volumes in Germany are stagnating. In March 2021, DFS, the German air navigation service provider, controlled around 79,000 flights in German airspace. At the airports in Germany, by contrast, traffic edged up.
In March 2021, air traffic volumes in German airspace changed slightly compared with the previous month. DFS logged 79,031 take-offs, landings and overflights under instrument flight rules (February 2021: 63,689). Compared with March 2020, this represents a decline of 48.0 percent (February 2021: minus 71.5 percent). The reason for the lower percentage decline is that the first effects of the Coronavirus pandemic were already making themselves felt in the volume of air traffic in March 2020. A comparison with March 2019 is therefore more meaningful. At that time, DFS registered almost 260,000 flights in German airspace. Currently, there are just over a quarter as many.
In contrast, a slight upward trend was evident at the designated international airports in Germany. Air traffic revived after the number of take-offs and landings had declined once again from January to February. In total, 9,301 more flights were recorded in March 2021 than in the previous month, corresponding to an increase of around 25.6 percent. However, there were still almost 53.2 percent fewer take-offs and landings than in March 2020 and three quarters fewer than in March 2019. One reason for the slight upturn is that parts of Spain have not been classified as Coronavirus risk areas since mid-March. Since then, air traffic volumes have increased, especially to Majorca, the popular tourist destination for German holidaymakers. 
Growth was particularly strong at Munich and Düsseldorf airports, each with an increase of around 50 percent. Frankfurt Airport was again the busiest airport in March 2021 with more than 13,674 flights, representing almost a third of all take-offs and landings in Germany. The development of traffic at Leipzig Halle Airport continues to be exceptional. A total of 5,933 take-offs and landings were recorded here in March 2021, an increase of around 26 percent. This means that the airport, where air cargo plays a major role, is almost at the same level as in the same month last year (March 2020: 5,588 take-offs and landings).
"The strong demand seen following the removal of restrictions on destinations in Spain shows the great desire for people to travel and discover the world," said DFS CEO Arndt Schoenemann. "Of course, this must be done responsibly, because the safety of passengers and protection against further spread of coronavirus is paramount. I very much hope that with the progress of the Coronavirus vaccinations and targeted testing, it will be possible to make people mobile again step by step. Even though no one knows how quickly this will happen, one thing is certain. As soon as demand picks up again, DFS will definitely be ready."

Download
Downloads

Media contact:
Kristina Kelek
Telephone: +49 (0)6103 707-4161
presse@dfs.de
DFS Deutsche Flugsicherung GmbH, the German air navigation service provider, is a State-owned company under private law with 5,600 employees as at 31 December 2020. DFS ensures the safe and punctual flow of air traffic over Germany. Before 2020, around 2,200 air traffic controllers guided up to 10,000 flights in German airspace every day, more than 3 million movements every year. The company operates control centres in Langen, Bremen, Karlsruhe and Munich as well as control towers at the 16 designated international airports in Germany. The subsidiary DFS Aviation Services GmbH markets and sells products and services related to air navigation services, and provides air traffic control at nine regional airports in Germany and at London Gatwick Airport and Edinburgh Airport in the UK. R. Eisenschmidt GmbH is another DFS subsidiary which markets publications and products for General Aviation. Kaufbeuren ATM Training (KAT) is responsible for training military air traffic services personnel. DFS has been working on the integration of drones into air traffic since 2016 and has set up a joint venture, Droniq GmbH, with Deutsche Telekom.